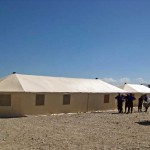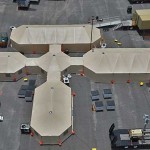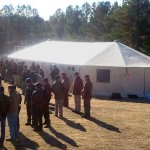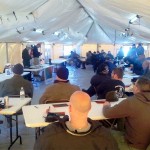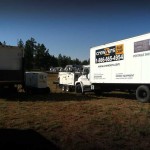 Western Shelter 23'x 60' Elongated Octagon Tent
Western Shelter's 23′ x 60′ elongated octagon tent is their largest shelter with 1274 square feet of usable floor space of that can be erected without the aid of tools, ladders or lifts.  Estimated set-up time: 2 to 3 hours (more time may be required depending on ground preparation).
Tent Features:
Desert Sand Color, made from durable flame retardant vinyl.
Floors included
Capable of withstanding temperatures of -20F to 135F
Deployed footprint: 22'8" by 60'1"
Six-foot vertical sidewalls
Self-supporting internal frame (No center pole needed)
4 Double doors, may be oriented on all sides
Ten 36″ x 36″ clear view windows, fully screened with privacy flaps.
Vent cap system.
Wind capacity of up to 50+ MPH sustained wind loads and/or 70 mph gusts, and heavy rain loads
In larger camps, can be used as a Kitchen and/or Dining Space
Optional Wall Dividers can create up to 10 separate rooms with central hallway. As office space, it will easily accommodate multiple work stations.
CrewZers offers quotes to include the following OPTIONS alongside our Portable Shelters:
Insulation
Power generation
Interior Lighting (florescent or string lights, power cords & adapters)
Exterior Lighting (Light Towers)
Cots & beds (with or without bedding)
Heaters and/or coolers
Stand alone portable sinks
On-site staff throughout the duration of the job or for just "set up" and "take down".
Rental options include daily, weekly and long term rentals. Call our Office at 866.665.4954 for pricing and availability.
Why use CrewZers Tents?
CrewZers Tents are field cleaned after every takedown and ready to be deployed again quickly.  Then they are "deep" cleaned at one of our warehouses at the close of the season.
Standard roof insulation with every tent
Setting a higher standard for the Industry

"Contractor worked very well with all incident personnel and went out of their way to meet our needs."
- Jeff Leonard
Facilities Leader, Tonto National Forest
"The yurts were a life saver in this camp, early mornings and evenings were cold."
- Walt Schopfer
Logistics Section Chief, Stewart Fire