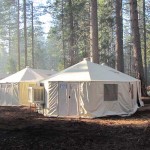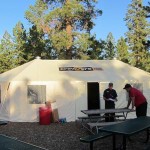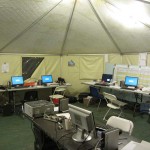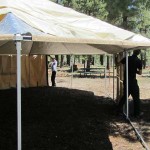 1935 Elongated Octagon Tents
This Western Shelter 1935 tent has 570 square feet of usable floor space. In an all-hazard response situation the GateKeeper I-1935 (GK-1935) can assist first responders as a shelter solution in emergency healthcare, law enforcement, disaster medicine, urban search & rescue, disaster mortuary, disaster veterinary, and more. The GK-1935 meets the needs as a facility to offer initial control/entry and protection of a hospital, initial triage, patient registration, administration, outpatient support, record keeping, command center, staff quarters, common area, sleeping, etc.  Estimated set-up time: 30 Minutes to 1 hour each (more time may be required depending on ground preparation).
Features of this Portable Shelter tent include:
Yurts are Desert Sand color, made from durable flame retardant vinyl.
Floors included
Capable of withstanding temperatures of -20F to 135F
Measures 19 x 35 feet
Six-foot vertical sidewalls
Self-supporting internal frame (No center pole needed)
Single or Double doors, may be oriented on either side
Eight 36″ x 36″ clear view windows, fully screened with privacy flaps.
Vent cap system.
Wind capacity of up to 50+ MPH sustained wind loads and/or 70 mph gusts, and heavy rain loads
CrewZers offers quotes to include the following OPTIONS alongside our Portable Shelters:
Insulation
Power generation
Interior Lighting (florescent or string lights, power cords & adapters)
Exterior Lighting (Light Towers)
Cots & beds (with or without bedding)
Heaters and/or coolers
Stand alone portable sinks
On-site staff throughout the duration of the job or for just "set up" and "take down".
Rental options include daily, weekly and long term rentals. Call our Office at 866.665.4954 for pricing and availability.
Why use CrewZers Tents?
CrewZers Tents are field cleaned after every takedown and ready to be deployed again quickly.  Then they are "deep" cleaned at one of our warehouses at the close of the season.
Standard roof insulation with every tent
Setting a higher standard for the Industry

"The tents showed up and the workers were excellent in setup and tear down. Good Group of Guys. Very professional."
- Steve Bird
BLM
"Crewzers service has been excellent."
- Jerry BradleyFacilities Unit Leader,AZ Central West Zone
"Company personnel were good to work with. Would definitely use Crewzers again."
- Walter Schopfer
Logistics Section Chief, Montana R1