CrewZers works directly with your Government Agencies, Universities, small and large businesses and Communities to develop contingency site planning efforts.  These Contigency Plans and Site Planning help to minimize the amount of downtime you could experience during any planned or unplanned man-made or natural disasters. Utilizing CrewZers base camp and logistical equipment can get your organization up and running again as painlessly as possible.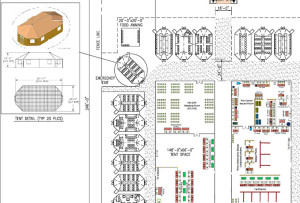 Emergency and Post Disaster Preparedness can help in the event of unforeseen catastrophes.  Most communities are at risk from many different hazards including: pandemics, home and wild land fire, terrorist attacks and such other calamities.
Small and large Businesses throughout the world operate with contingency plans waiting on deck in the case of a natural disaster or emergency.  Local agencies – NGOs and governments – should also have disaster response programs in place and able to support and care for families and communities in the event disaster occurs.  Typical response systems include: temporary housing shelters for victims displaced from their homes, temporary offices and command centers for management of these disasters, toilets, showers and hand wash stations for sanitization, mobile medical tents and field hospitals to care for the sick and injured and training facilities to get new staff trained in the event of a worker strike.
CrewZers Fire and Disaster Services supports communities and local agencies by providing rapidly installable, highly portable, ruggedly durable fabric shelters and administrative buildings needed to provide treatment, protection and accommodation in the aftermath of a disaster. These vital systems can be stockpiled for rapid deployment after an emergency.